Every teeny tiny detail about my wedding makeup…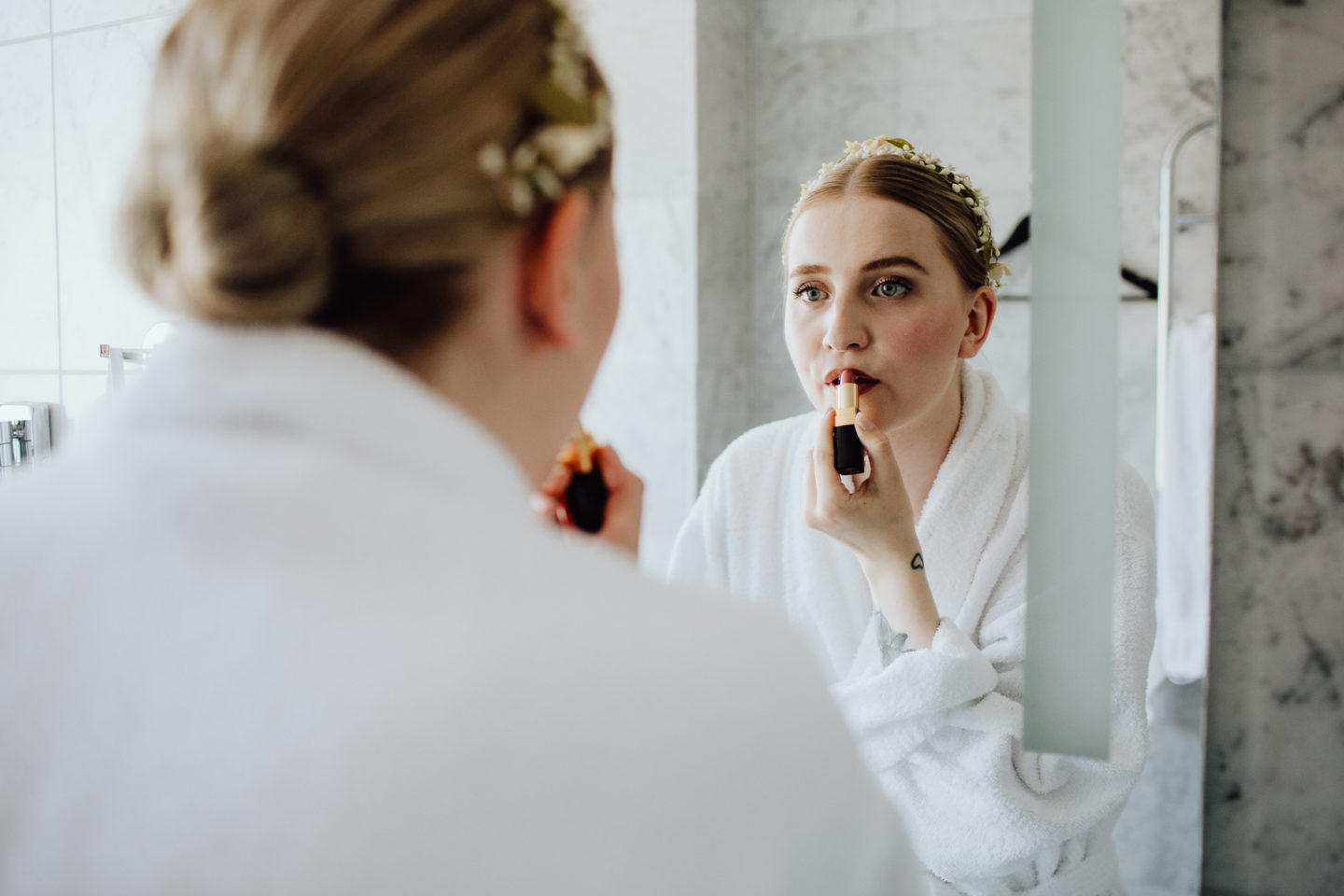 So as you know by now I GOT MARRIED (!!) how crazy is that? I feel so very adult. (without anything actually changing more than the ring on my finger.) We had the most wonderful day, and it's rarely this happens but everything was perfect! The best day of my life!
I could go on but this post is just about the makeup so let's get back on topic – For our wedding we decided to keep it simple and try to do as much as we could by ourselves (to make more room in our budget for guests and food). So I did my own makeup and hair (with a little help from my mother to get all of the pins in the right place.)
And as a beauty geek wedding makeup has always been kind of a big deal for me so when it came to my own wedding makeup I wanted it to be perfect. But which was the perfect wedding makeup look for me? My criteria was that I wanted something timeless, that would last the whole day and simply look like me but the prettiest version of me! So here is a break down of my whole wedding look.
Skincare/primer
As my base I decided to go safe! Vichy Aqualia Thermal Serum has been good to me for a long time and kept my skin hydrated (I still think it's better than The Ordinary Hyaluronic + B5 that I've used a lot lately, especially for under makeup). On top of that I decided to use SPF. Yes I know, one is not supposed to use SPF while being photographed, but since I'm very sensitive to sun and the wedding was outdoors in bright sunlight I decided on comfort before looks! (The pictures turned out great btw!) Since The Vichy SPF50 is a rather creamy formula I didn't put on any moisturizer (trying to keep the layers to a minimum because it's building up as it is.) To get that lit from within glow i used the Becca Shimmering Skin Perfector in the shade Pearl all over my face. I also used this mixed with my body lotion on arms and legs.
Products:
Vichy Aqualia Thermal Serum
Vichy Idéal Soleil SPF 50
Becca Shimmering Skin Perfector (which I also used on my body mixed with a bit of the body shop body butter)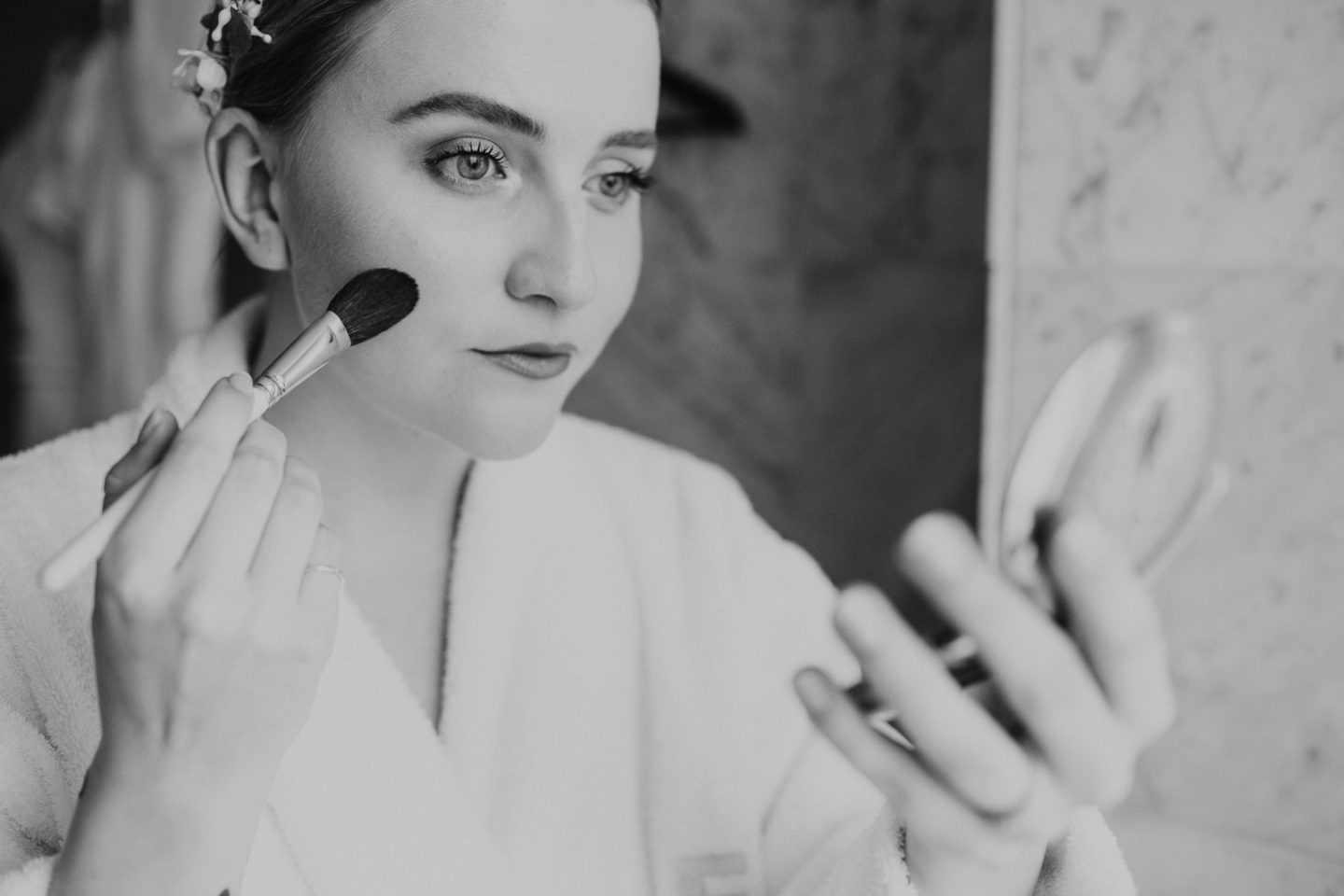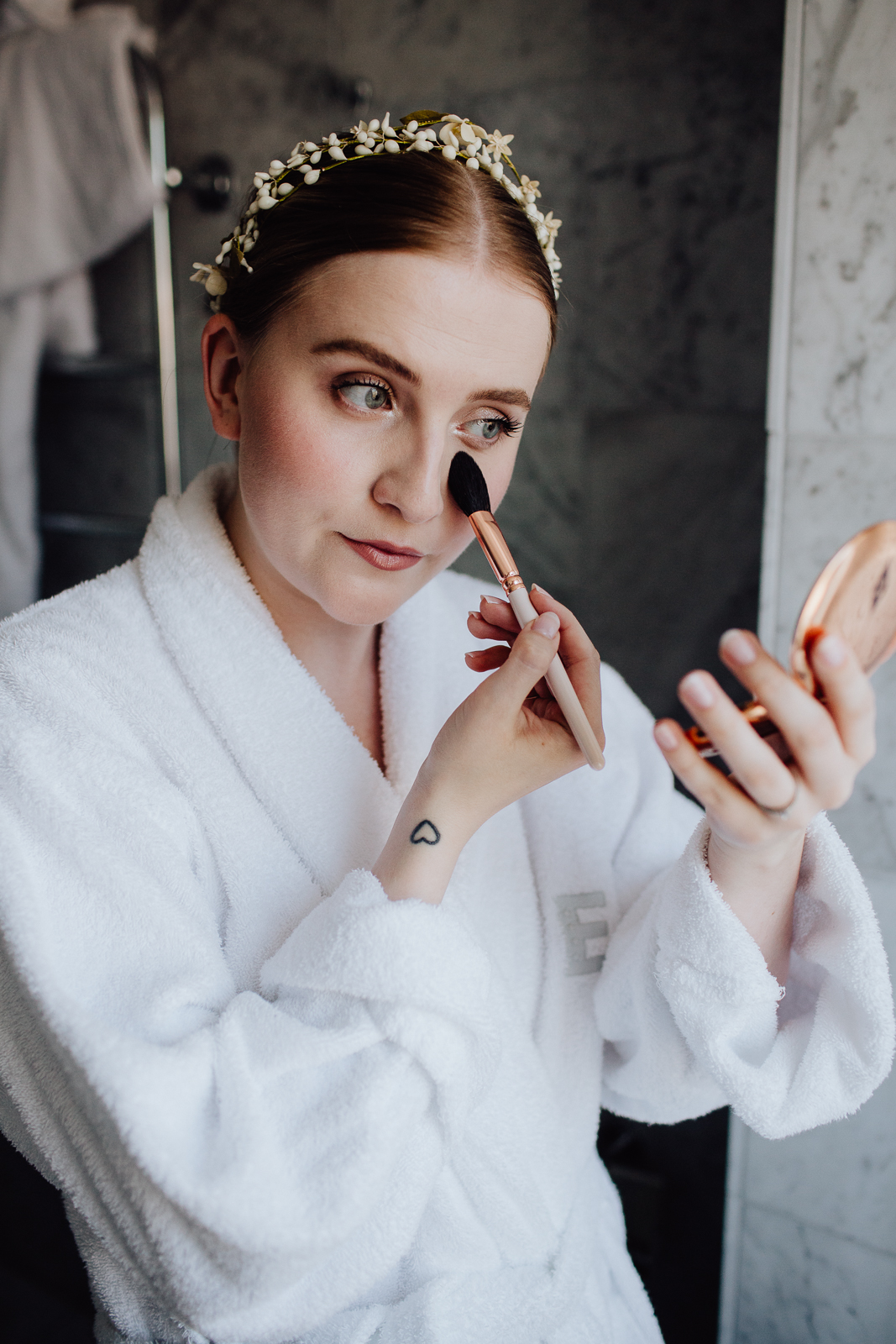 Base:
For base I used the failsafe Armani Luminous Silk Foundation in 02. This is one of my favorites and it was mentioned in almost every wedding makeup video I watched. This foundation is perfect for us with dry skin as it's not as super matte as many other foundations with high coverage. For concealer I used my favorite Glossier Stretch Concealer in Light. To adjust the shine and make the concealer stay in place i used my favorite powder from Charlotte Tilbury in Fair. To finish it off and to make it last all night I spritzed some Urban Decay All nighter Setting Spray Pollution on top.
Products:
Armani Luminous Silk Foundation
Glossier stretch concealer
Urban Decay All Nighter Setting Spray Pollution
Charlotte Tilbury Powder
Cheeks:
For the cheeks I did a bit of a mixing. For a bit of definition I used Glossier Cloud Paint in Dusk in the hollows of my cheeks and on the temples and a little on my double chin to camouflage it a bit. (I can't really remember but I also think I used a tiny hint of the Kevyn Aucoin Sculpting Powder to intensify the contour a little bit.) Then on the apples of the cheeks I used the same product but in the shade Puff to make it fresher. As I highlight I used my all time favorite from RMS Beauty – The Living Luminizer.
Products:
Glossier Cloud Paint in Dusk
Glossier Cloud Paint in Puff
RMS Living Luminizer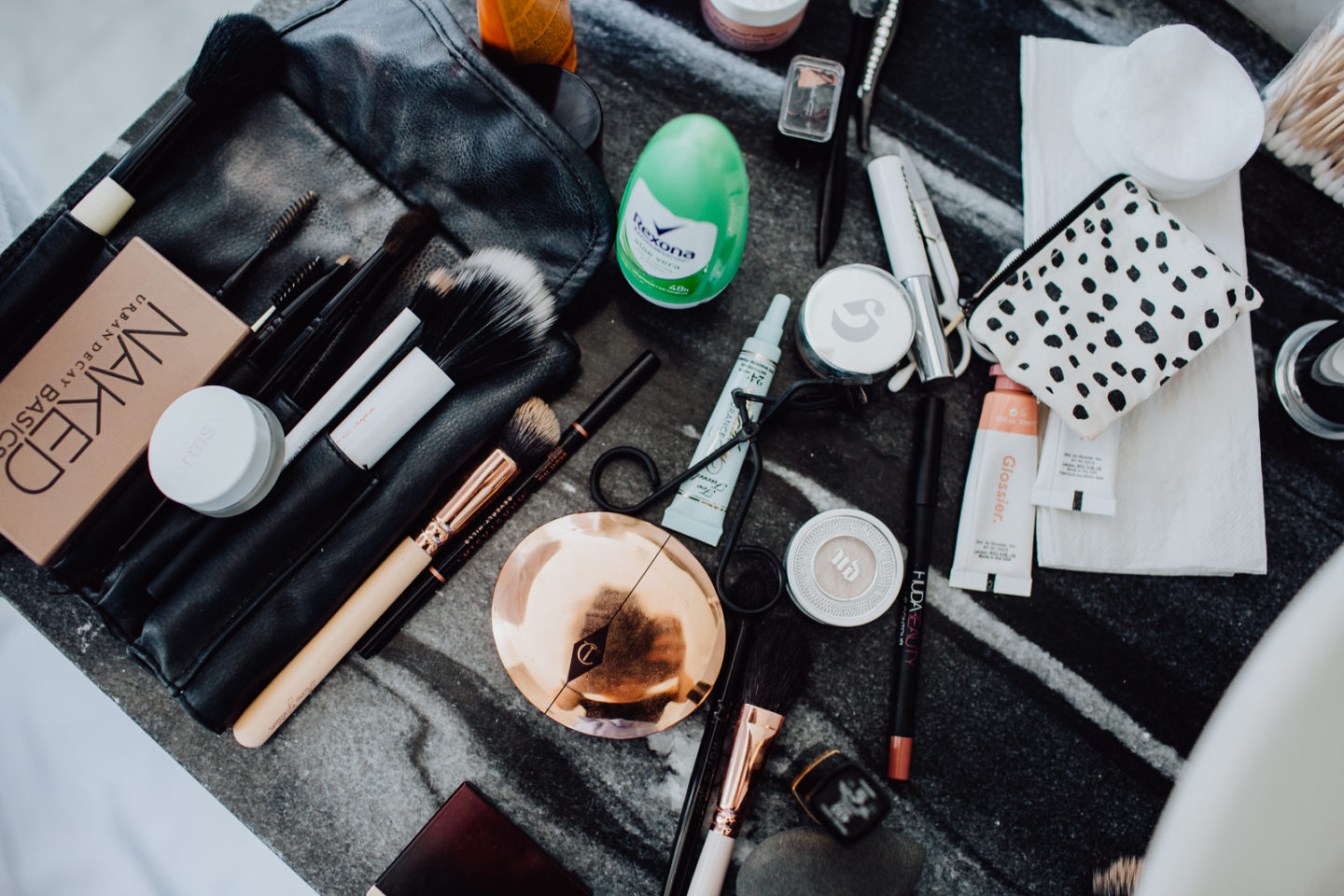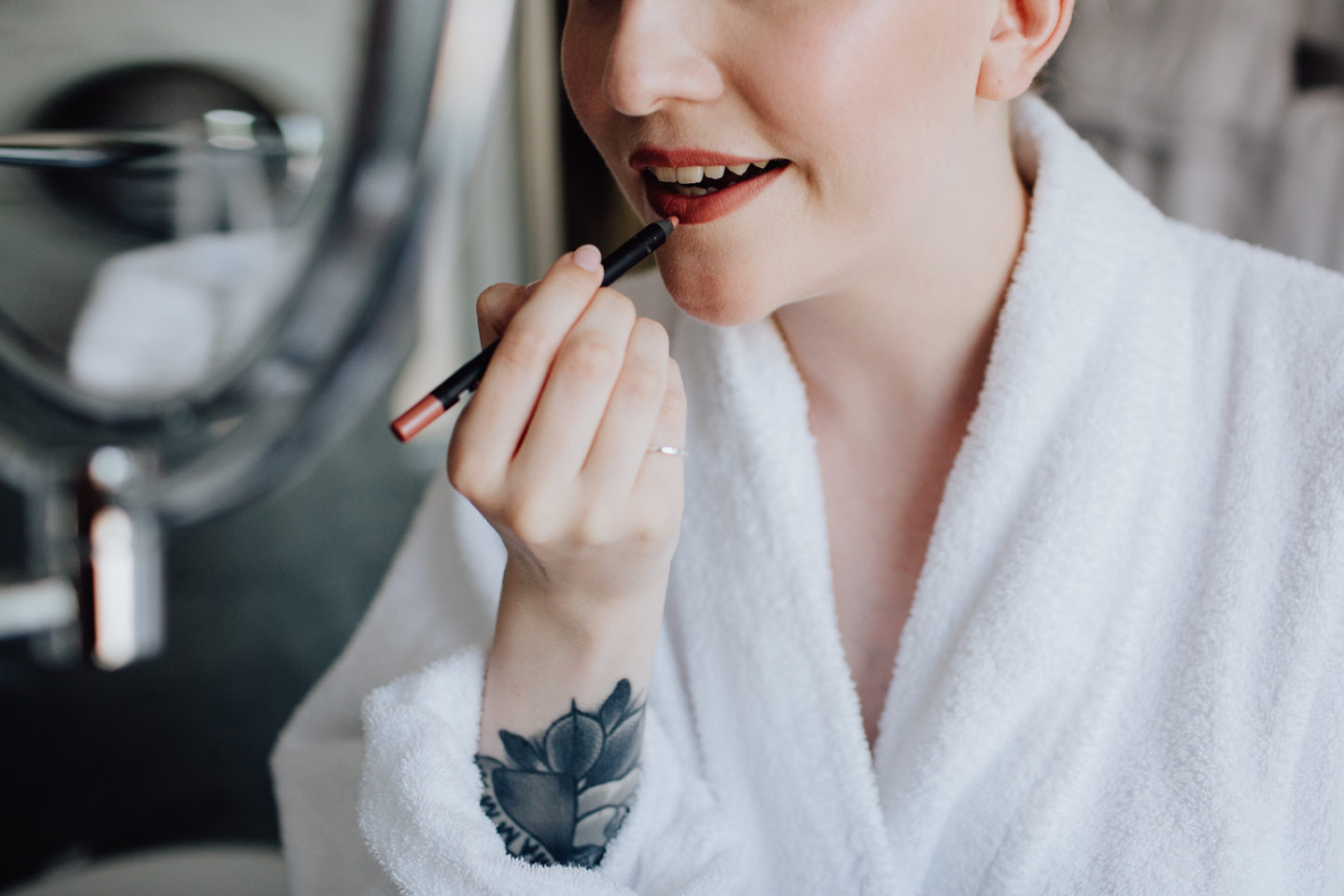 Lips:
Oh the lips! I was so certain that I would have dark red lips, I even bought 2 backups of my favorite Charlotte Tilbury Lipstick in Opium Noir thinking that it would be the one. But when I tried it with all my wedding clothes it just didn't feel right. So I went on a hunt for nudes. Usually when I'm wearing a nude lip I simply put some lip balm on and leave it at that but for a wedding I wanted it to look more polished and amazeballs.
So I first found a lipliner from Urban Decay called Peyote. It's a nude-y pink shade. And to top it off I bought a lipstick from Chanel that I've been obsessed with for years but that have never been in stock when I've been past a Chanel counter. It's called Rouge Coco Ultra Hydrating Lip Color in the shade 432 – Cécile. This was actually the lipstick I wore on my wedding day! The scent is amazing and it's a sheer and comfortable formula.
After trying the Peyote lip liner for a couple of days I decided that it looked a bit to dark and pink so I went to Sephora and swatched almost all the lip pencils there until I found the ultimate one. It's called Wifey (appropriate for a wedding!) and comes from Huda Beauty. This is my perfect nude and I've worn it loads after the wedding as well. Both in combination with the lipstick but also with other products on top.
Products:
Huda Beauty Lip Liner in Wifey (haha love the name)
Chanel Lipstick in Cecile
Eyebrows
For my eyebrows I decided to safe it and use both my favorite Brow Wiz from ABH in the shade Taupe and then top it of with a bit of Kevyn Aucoin Sculpting Powder Medium to make sure that it stayed in place all night. To keep the actual brows going in the right direction i set it all down with a bit of Glossier Boy Brow in clear (Glossier is available in Sweden since the 14th of June so my new favorite is actually the shade Blonde. It gives it more of an oomph)
Products:
ABH Brow Wiz in Taupe
Kevyn Aucoin Sculpting Powder in Medium
Glossier Boy Brow in Clear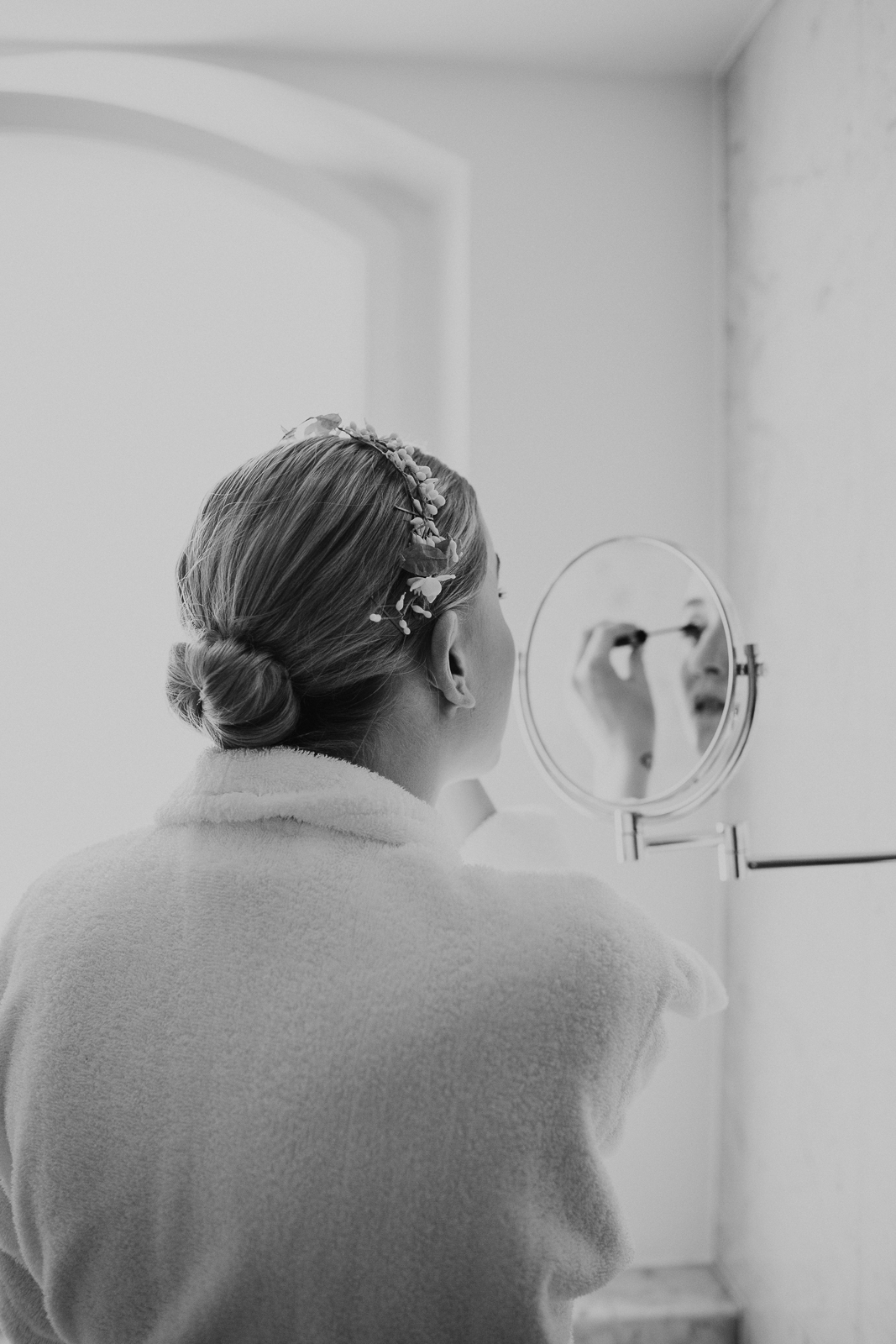 Eyes:
Are you still with me? This is starting to become quite the novel!
For eyes I went back to basics with the Naked Basics palette from Urban Decay. This palette I bought in Paris 2015 and is still going strong. (I heard this should be discontinued? horror of horrors…) It got all my favorite shades for a neutral eye. To make it a bit more wow I bought the Urban Decay Moondust Single Eyeshadow in the shade Cosmic. This shimmering white shade gave the impression of a wet look eye, even though it's dry and stayed in place all day. Win!
As a mascara I bought the Sensai 38c Mascara. I'm not a big mascara user but this one does not move or flake but is easy to remove using warm water. The only down side to this foolproof mascara is that it takes away my curl because it's quite wet! I got an amazing tip from my friend Maria that was to press the eyelashes up while the mascara dries and it really worked! Another mascara tip is to put the mirror under your chin. By doing that the risk of getting mascara on your eyelids is highly reduced.
Products:
Urban Decay Eyeshadow in Cosmic
Urban Decay Naked basics Eyeshadow Palette
Sensai 38c Mascara
And this was the entire wedding makeup look!
I only reapplied the lip products once but other than that the makeup looked great all day
Finally… The ones I bought but didn't use
In the process of finding my wedding makeup I did make a few misses. So here they come. I still don't feel that 4 misses is that bad for a beauty geek like me, but it's still a little bit embarrassing…
Primerizer – It made my base crumble 🙁 And everyone said this should be amazing but no. I'm so disappointed.
Peyote lip liner – too dark, too pink.
Mac Extra Dimension Blush in Into The Pink – This looked fresh and bright but a bit too much for my wedding look and a bit to pink! It was meant to match with peyote but well, not my cup of tea.
Opium Noir lipstick – Still one of my favorites lipstick but it just didn't feel right for the rest of the wedding (and who has the energy to remove the lipstick from your husbands lips every time you kiss?) I still love a dark red lip for weddings though, so classical and pretty.
Photo: Fotograf Emma Ivarsson