And oh how I've dreaded this…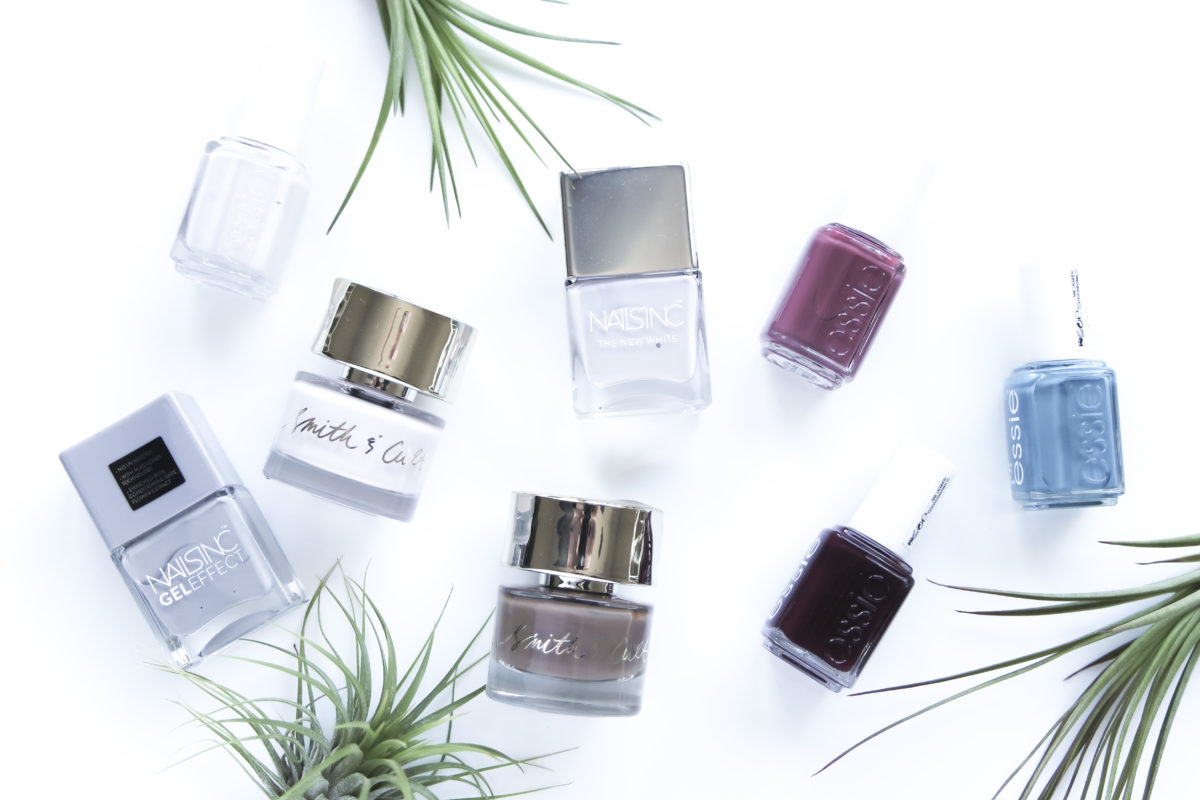 About a month has now gone since I did my nail polish declutter so as promised; here is a little update of what I'm keeping and what I'm giving away.
I'm actually deciding what to keep as I'm writing this post because I'm super sentimental and a bit of a hoarder. I'm having a really hard time with this whole nail polish declutter thing. (Even though I've long ago established that I actually just need two…) But this is the ting about minimalism and decluttering. You need to take it in your own time and just repeat it every now and then. So here we go!
Left to right: Smith and Cult Regret the Moon, Essie Urban Jungle, Nails Inc White Horse Street, Nails Inc Hyde Park Place
For all you normal people out there the tree polishes to the left probably all look white with a hint of pink/lilac to you, but for me there is some big differences. There is something with Nails Inc White Horse Street that just keeps me from getting rid of it. It's the perfect white with a tiny hint of something else, a bit lilac-y. The same goes for Smith & Cult Regret the Moon but that's more on the pink side. And since I really love both of them and really like their formulas I'm going to keep them for a while longer.
Urban Jungle is going to a new home because even though I love the color it's almost exactly the same as Regret the Moon, just in a slightly inferior formula. The same goes for Hyde Park Place. It's my only true grey nail polish but I'm not the biggest fan of grey. Not as nail polish or clothes. So that's gone.
Now on to the next hand!
Left to right: Smith and Cult Tenderoni, Essie Angora Cardi, Essie Sole Mate, Essie Garden Variety
This hand is a tricky one because all colors except one is completely different form anything I alreadygot. Let's start with Essie Sole Mate. This polish is one of the first ones I bought for myself. But the ting is that it's almost exactly the same color as Smith and Cult Dark Like Me as you can see in this post. But it's my favorite type of shade and since I'm doing this whole no shopping for a month-thing and my Dark Like Me is running out i should keep it for a little while longer.
Two polishes that I had actually planned on keeping but now have realised I'll probably never use is Essie Angora Cardi and Essie Garden Variety. I really love the shades but I don't need to wear them on my nails. And now to the last polish, Smith and Cult Tenderoni. You all know I love Smith and Cult nail polishes and I really can't decide with this one. One part of me thinks it's fun and sophisticated with a brown. The other part says that it doesn't do anything for me and I really don't need it. (Gaah, what to do?!) Well I think I'm going to keep it for a little while longer. I don't want to make a rash decision and it might be nice for the summer.
And this was everything for this little nail polish declutter update! Please leave a comment down below and we'll be in touch in a couple of days.