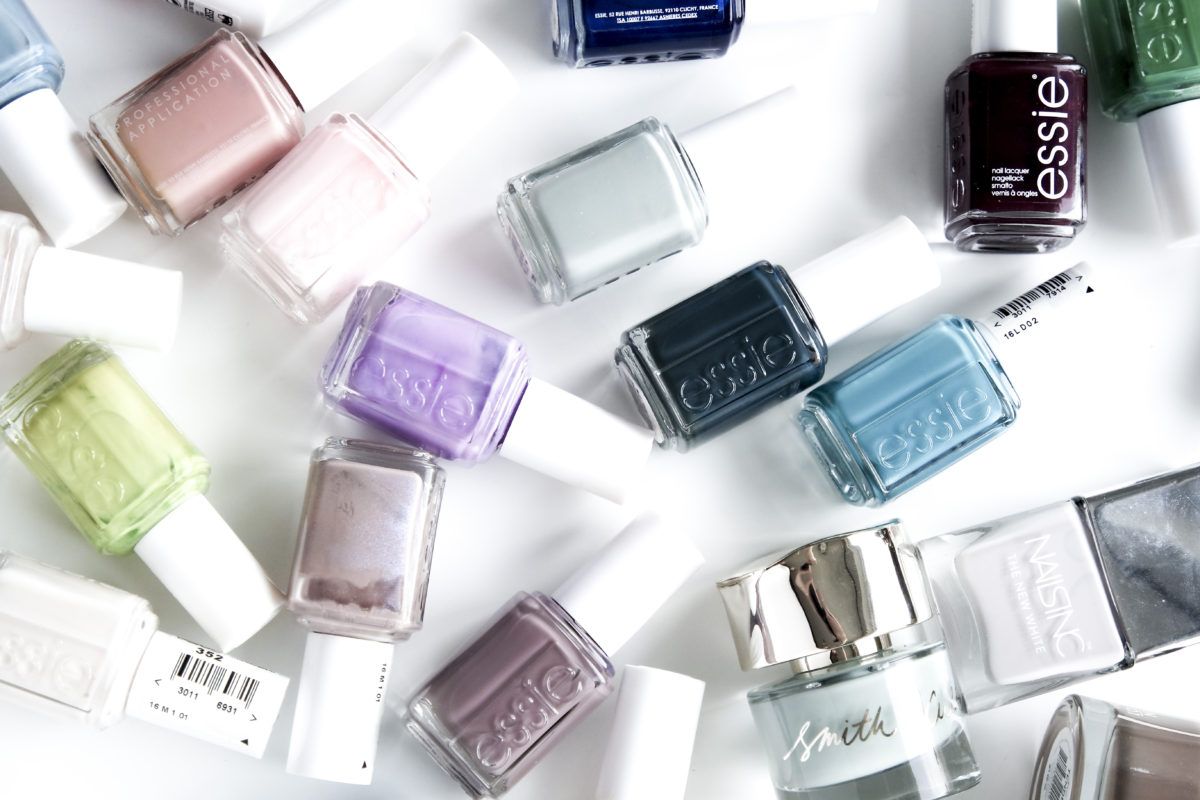 It's been a long time coming but I've finally done it! I've been thinking about doing a nail polish declutter for forever but haven't had the energy to deal with it. I did a declutter with most of my makeup (even though the makeup could need another round) and now it's time for the nailpolish. For those of you who don't know what a declutter is, it's when you go through you stuff (most often in categories) and get rid of the tings you don't use or need. That are just taking space in you home and your mind.
I ended up keeping 16 nail polishes, (base coat, top coat and cuticle oil included) but I've decided to split my nail polish collection up into about 10 posts. (So you can see them all properly and get my thought on them and what I use them for) So this post will focus on the ones I can't decide about, the ones I'm giving away, the really bad ones and the ones I'm throwing out. (If you'll stick with me through this whole post you're a champ!)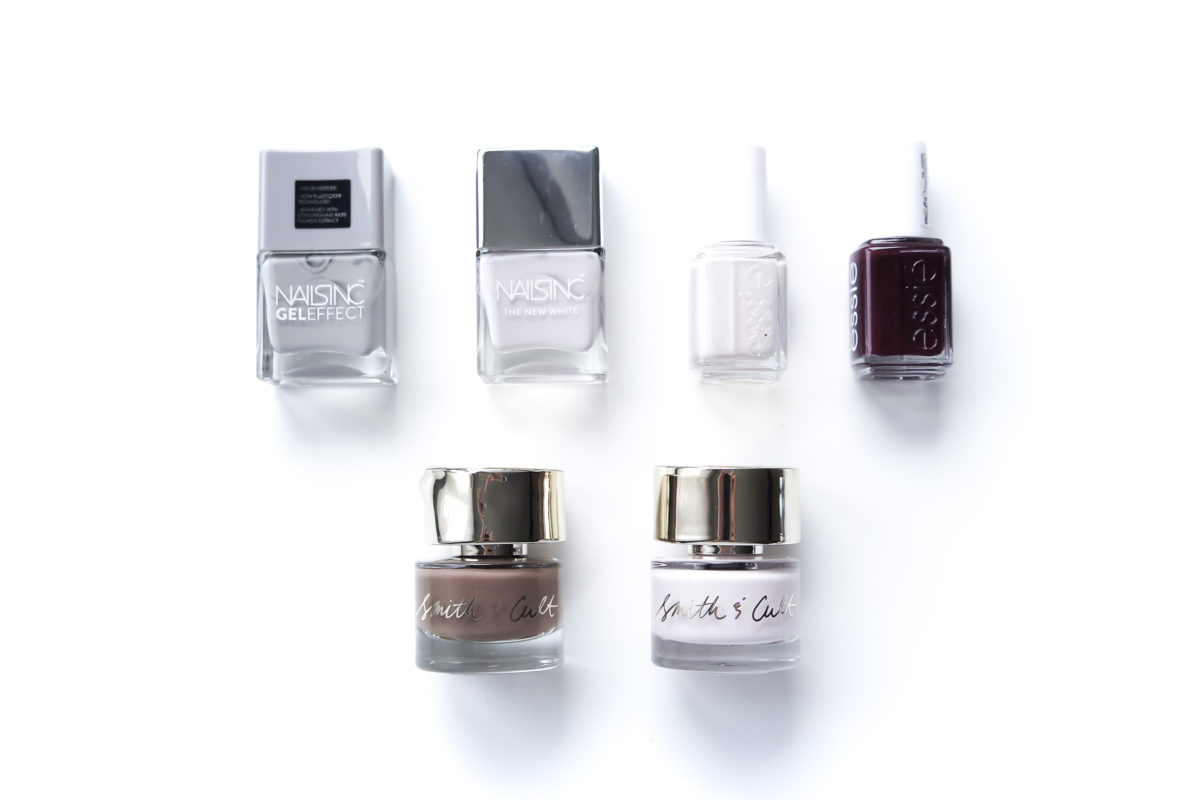 The ones I need to keep in a box for a month:
First up in this nail polish declutter is the ones I'm keeping in a box for a month. It's just impossible to make a choice at this very moment. That is why the above ones will be kept for a month. (I'm putting a note in my calendar and I'll get back to you with which ones that made the cut.) It's a bit like deciding what summer wear you should keep in the middle of winter – almost impossible! (And I'm totally sentimental so I don't know if I can part with Essie Soul Mate – my first Essie Nail Polish)
Left to right: Nails Inc Hide Park Place, Nails Inc White Horse Street, Essie Urban Jungle, Essie Soul Mate, Smith & Cult Tenderoni, Smith & Cult Regret the Moon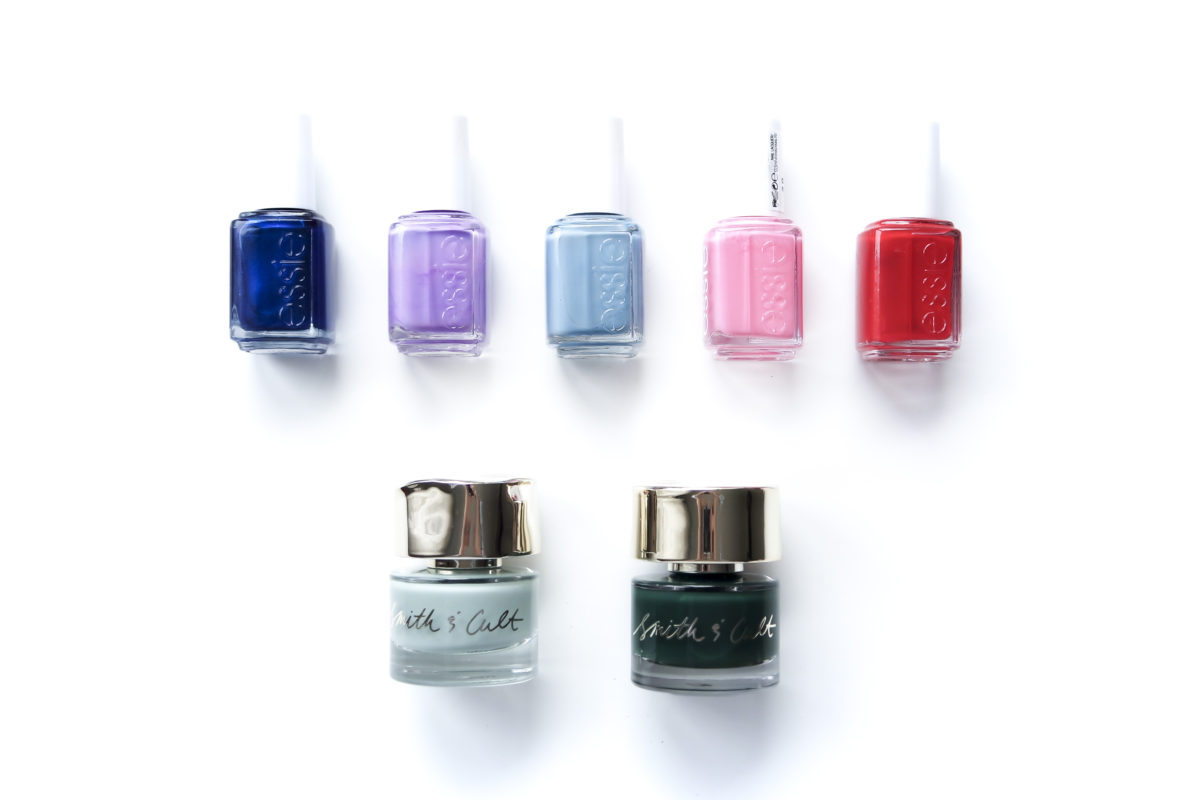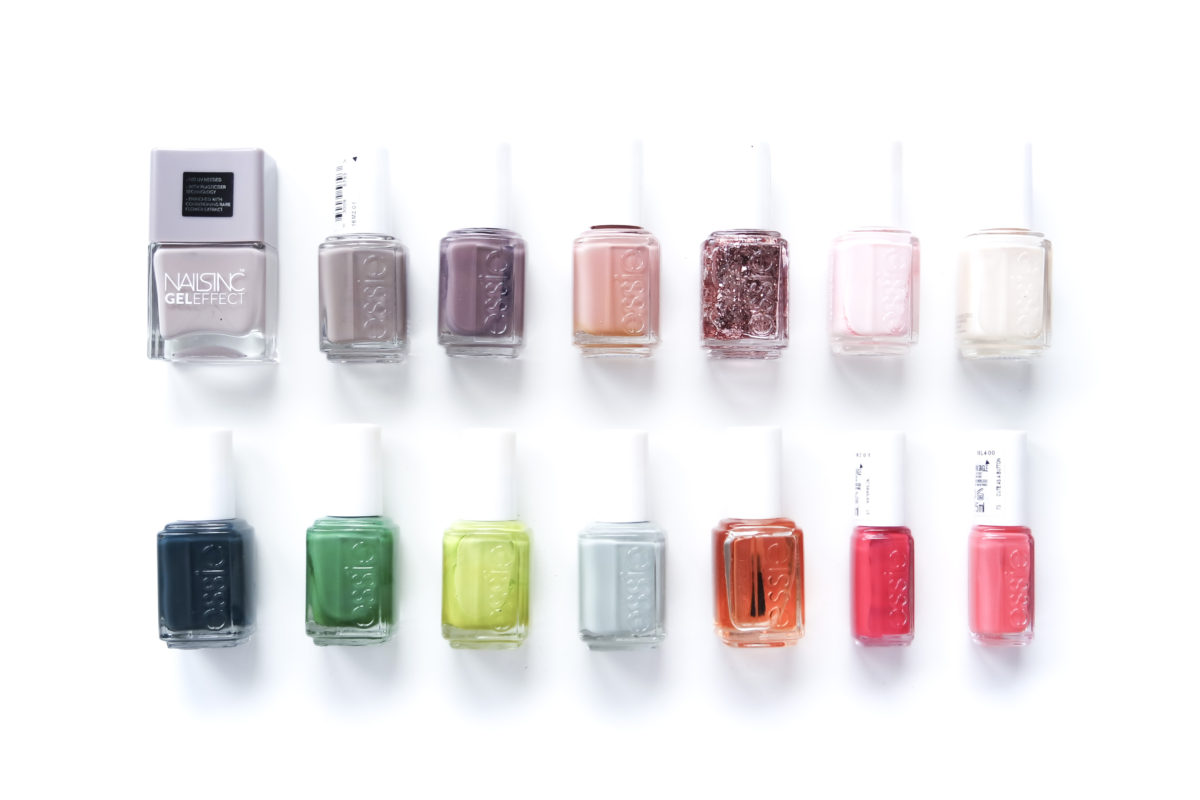 The ones I'm giving to my mother and my friends:
On the top picture you can see which ones my mother wanted. (She said they'll be perfect for summer toenails) One of my faves are Essie Sittin' Pretty. That purple really pops! As you can see I'm letting go of some of the Smith & Cult Nail Polishes that I bought a while back. I really LOVE the formula but these two colors will not get as much wear as they deserve. And to keep them in a drawer until they get old and dried out – that is a serious waste of money. Better to give them to someone who will use them more then me. (And I'm still keeping my faves)
The other picture is of the ones I'm going to give to my friends. Got noting much to say about them more then that they made me happy at one time, now they feel to colorful for me or I already got the exactly same shade in a better formula that I'm keeping.
Top picture left to right top to bottom: Essie Aruba Blue, Essie Sittin' Pretty, Essie Truth or Flare, Essie Lovie Dovie, Essie Really Red, Smith & Cult Bitter Buddhist, Smith & Cult Darjeeling Darling
Bottom picture left to right: Nails Inc Porchester Square, Essie Chinchilly, Essie Merino Cool, Essie Eternal Optimist,  Essie A cut Above, Essie Fiji, Essie Limo-Scene, Essie the Perfect Cover Up, Essie Pretty Edgy, Essie the More the Merrier, Essie Maximillian Strasse Her, Essie Cuticle Oil, Essie Watermelon, Essie Cute as a Button
The REALLY bad ones:
I hate to hate, but I need to warn you about these guys. They are unfortunately really bad. The blue Essie one made my nails permanently blue. They had to grow all the way out before I got rid of all the blueness. Terrible!! (Base coat didn't matter) The two beautiful shades on the left are from Essies Cashmere Matte Collection. They look absolutely stunning but they don't keep that well. (The same goes for the Matte top coat from Essie – the polish just flakes off with Essies matte formula)
Left to right: Essie Wrap Me Up, Essie Cozy in Cashmere, Essie Matte About You, Essie Strut Your Stuff
The ones that are going in the bin:
We are now getting to the end of my little nail polish declutter (great job if you've stuck with me this far!) These are actually not bad nail polishes, they are just very loved and dried up. So these one I'm going to say thank you to for a job well done and just say bye-bye.  (Don't get me started on the rubbish packaging that is keeping half of my Fill The Gap base coat hostage…)
Left to right: Essie Fill the Gap, Seche Vite Top Coat x2
And that was it for this little nail polish declutter. Keep your eyes up for the post with the polishes that I actually kept!