It looks sweet but don't eat it!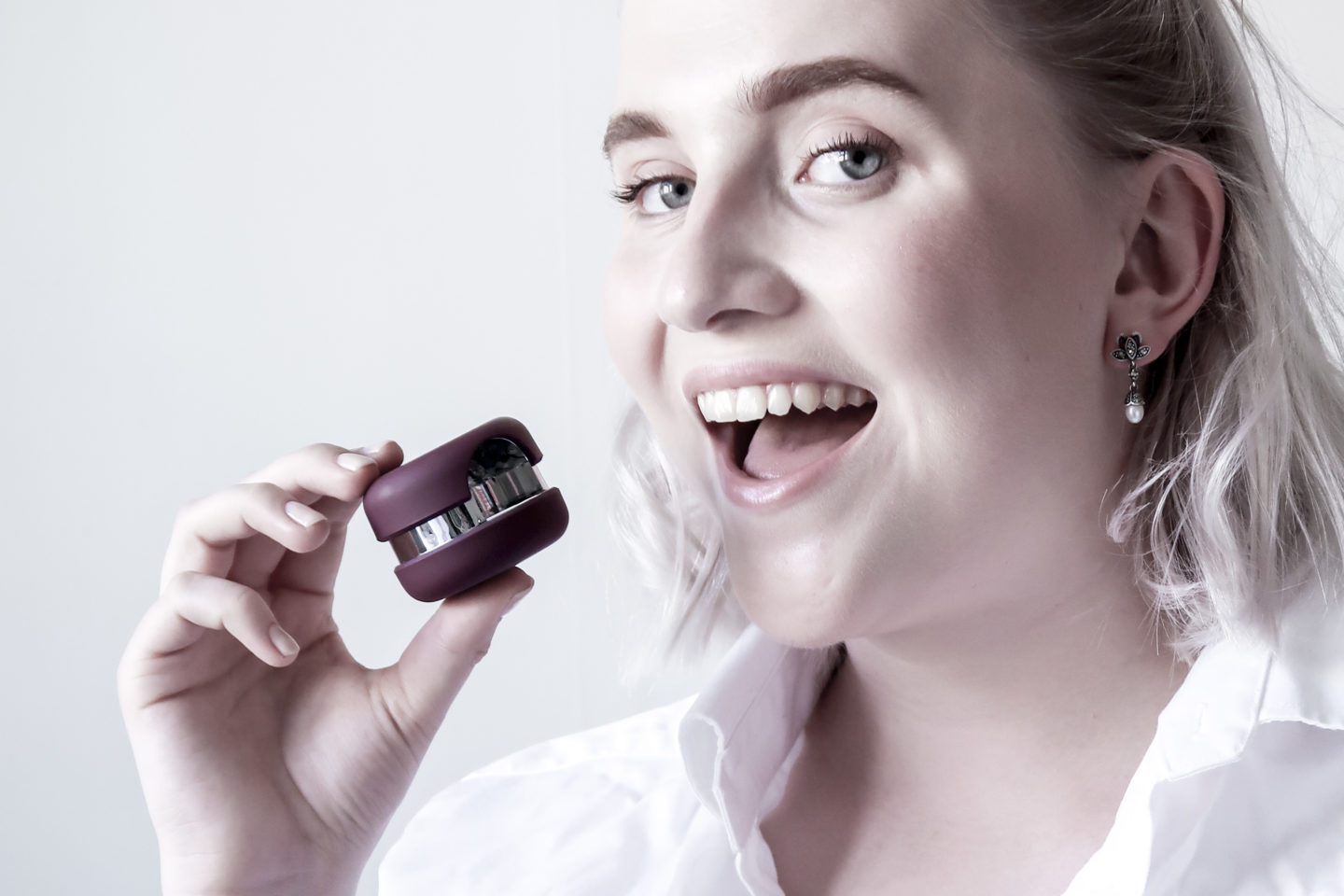 A new addition to my nail polish collection is Le Mini Macaron. (I know, I shouldn't buy any more nail polishes just after my decluttering. But this is my cousin Nadias fault!!) I visited Nadia for her 30th birthday party and when we should get ready she told me about this fun little invention called Le Mini Macaron. A quick and easy way to do gel nails at home. (And since it's semi-permanent you don't destroy your nails as badly as if you do them at a salon.)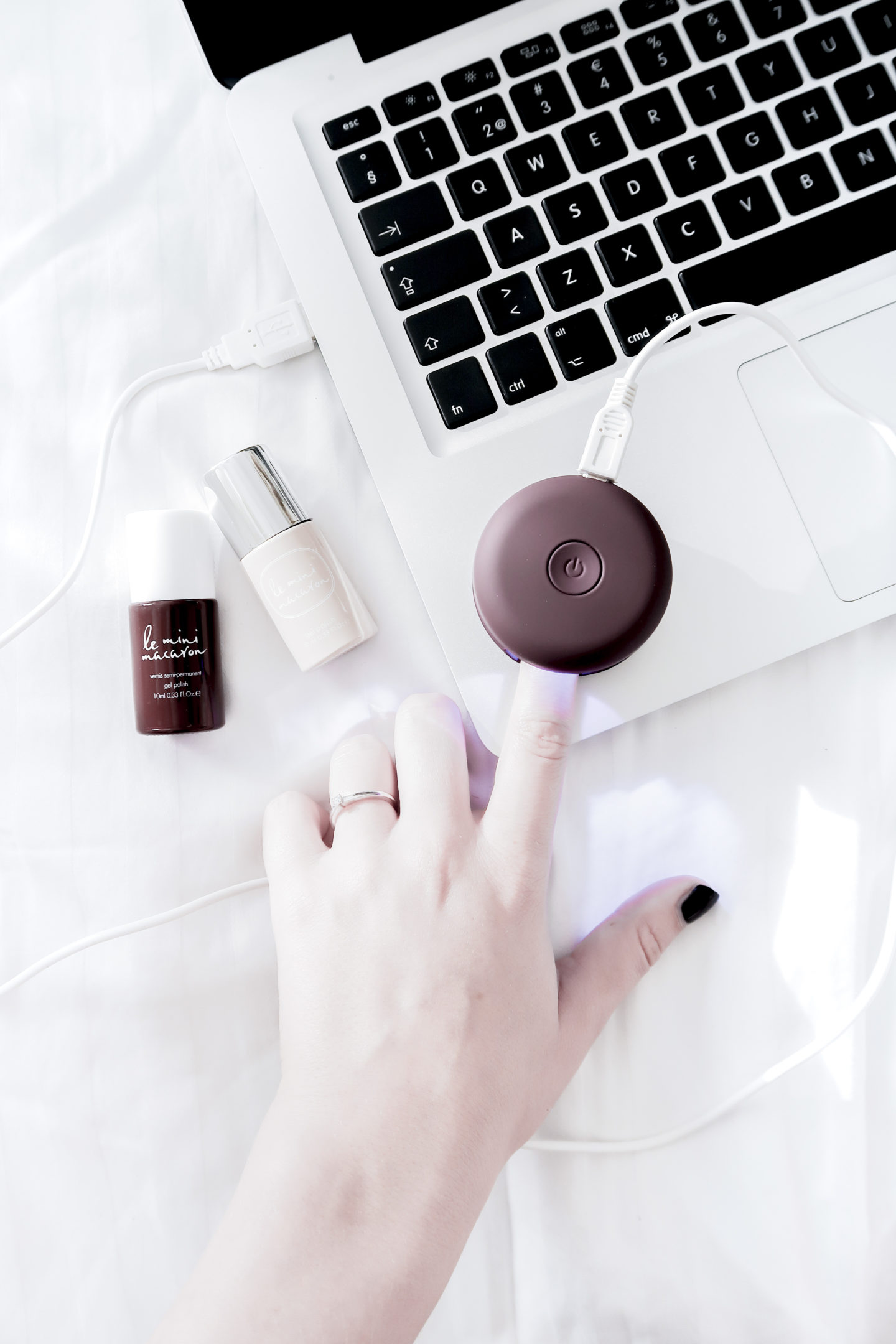 So I bought two colors, the first one is a bordeaux that I haven't tried yet called Cassis. It was included in the kit and it was one of the only kit-colors that interested me. (There was also a peach-y pink color and a tomato red that looked nice, butI feel that a bordeaux is more wearable). The other color I got is called Crème Brûlée and is the first polish that I've found to be similar to my nude favorite Oyster Bay. It's like a mix of Oyster Bay and Essie Ballerina Slippers. Yay! Crisis averted!

So why do I think they are great?
A regular polish sticks around for about 3-5 days on me (since I discovered Seche Vite) and on the last days it usually starts to look rather rough. Le Mini Macaron looks good for about 8-10 days which is a big plus in my book! (The black one I tried from my cousin looked nice for 8 days and then there was a little chip on one nail so I probably could have worn it for another couple of days with a tiny repair.)
They dry immediately. This is revolutionizing! Since the nail polish is dry the second you remove you finger from the macaron they look good longer and you can get to work with whatever. No problems with zippers or shoe laces and no scratches!
A beautiful range of colors. The kit colors can be a bit bright an difficult to use, at least for me. Cassis and Rose Creme where the only two that were more muted. But the single colors look really pretty. I really liked Licorice, Rose Buttercreme, Rum Raisin and Milkshake.
Le Mini Macaron don't destroy the nails as badly as a salon gel nail do. (Where they file the nail until it's nonexisting)
The negatives
It takes a bit longer to apply and remove. Since you need to harden the nail polish in the macaron which takes 30 seconds for each finger and each coat. When you then want to remove it it takes 15 minutes with the little removers on the fingers plus the time it takes to scratch it off.
You need to be careful when removing the polish. (I used to much force and almost scratched of a couple of layers from my actual nail. So stupid of me!)
It is quite expensive. First you need the kit with the little macaron. Then the singular polishes are cheaper but still kind of expensive. It depends on what you are comparing it to. It's really cheap compared to doing your nails at a salon, but expensive if you use for example an ordinary L'oreal nail polish.
You need a computer or a socket to use the macaron. (Not that big of an issue in todays society but still)
With all of the above considered, I still think the positives outweighs the negatives. I really like that it sticks around for longer and dries quicker. If you missed the four other posts in my nail polish collection you can find them here: 1, 2, 3, 4.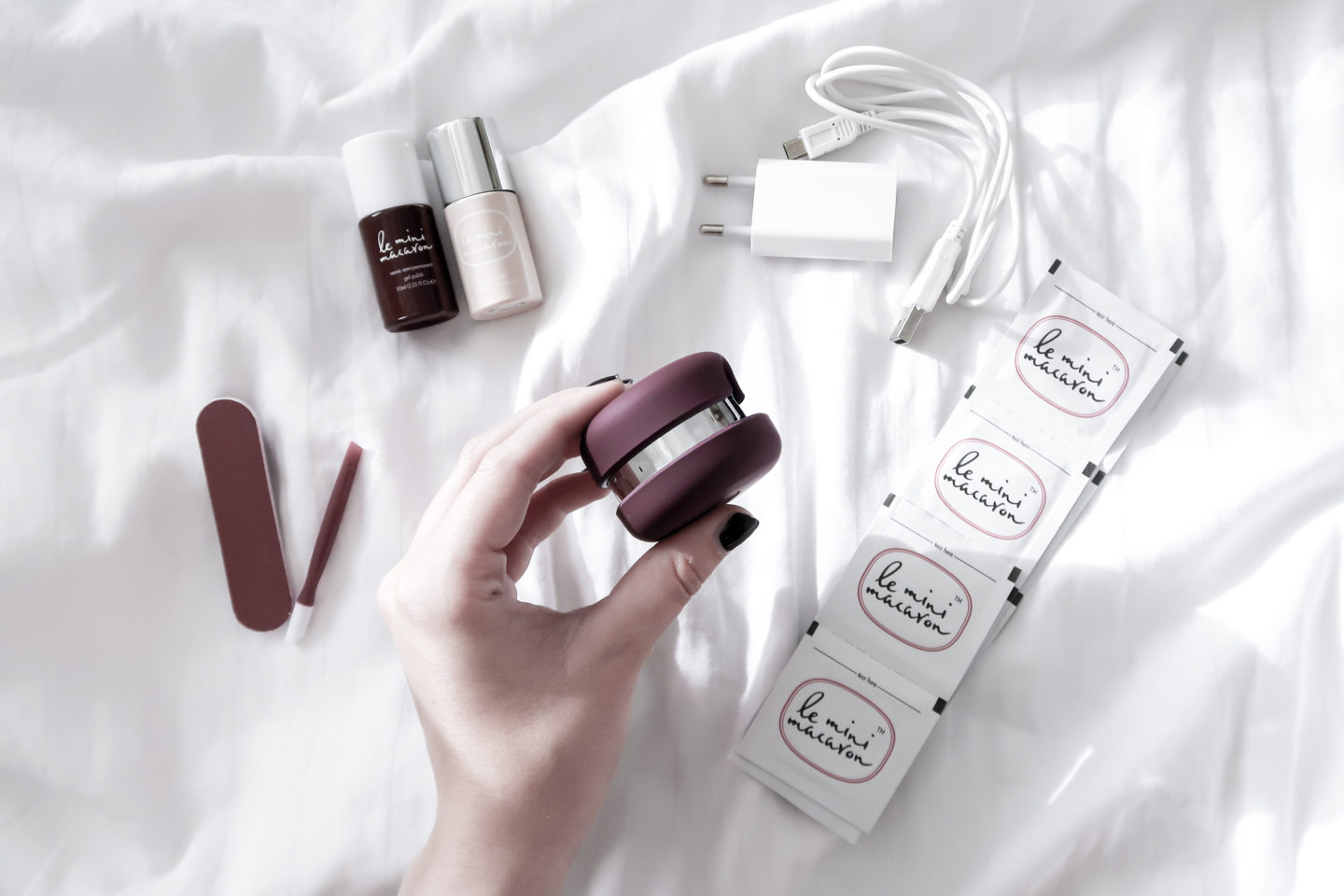 Above you can se what's included in the kit and the Crème Brûlée polish I bought on the side.