Enjoying life in the best city in the world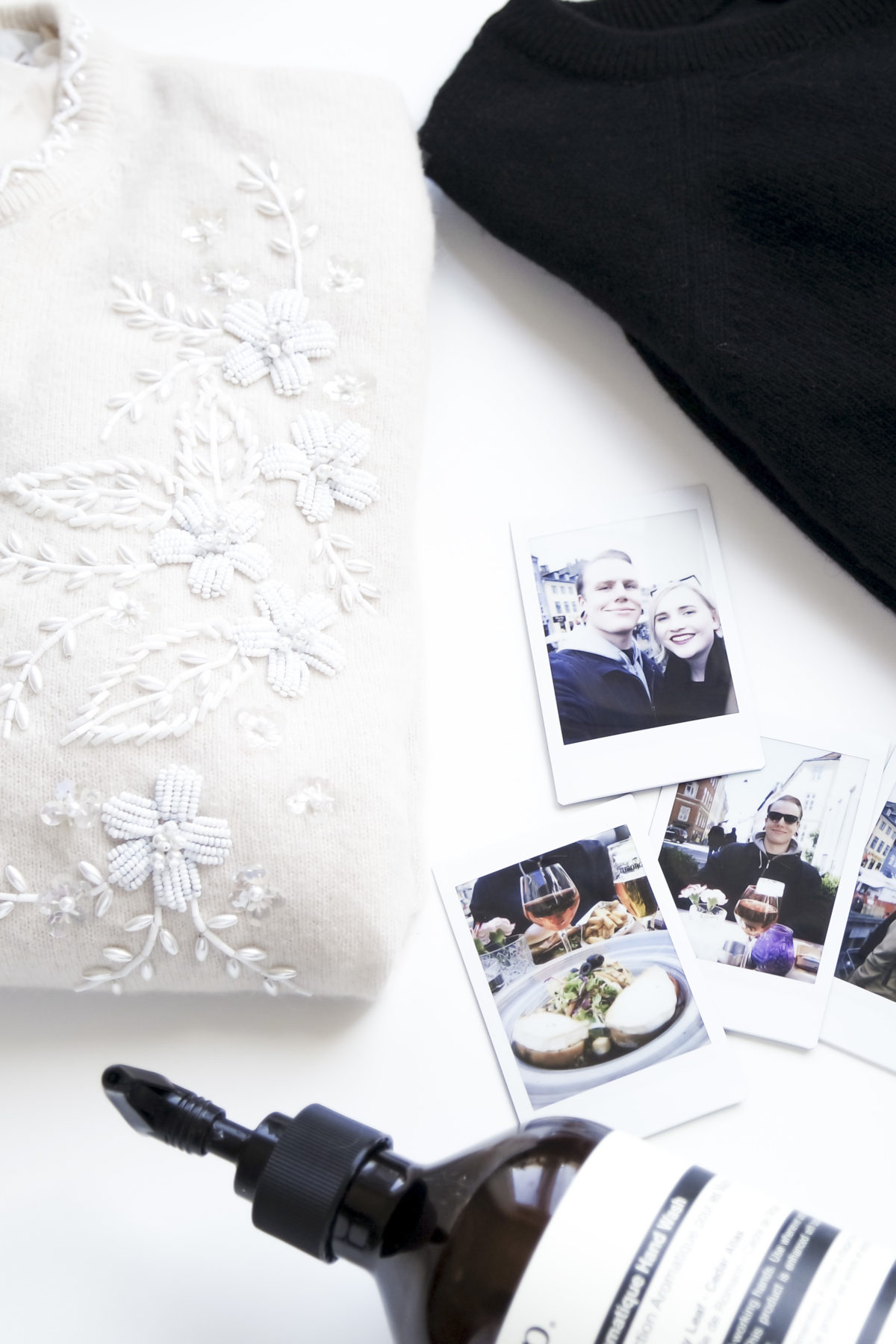 Jonathan and I usually goes to Copenhagen some time in the spring (and Summer, and Autumn, and for New Years) so last weekend was the time. The thing that got this trip started was that I won a beer tasting at my favorite brewery Nørrebro Bryghus. And any reason to go to Copenhagen is a good one! So here is a little post about what we did.
The shopping
And since this was the last weekend of April – aka the last chance to buy anything before my month of no shopping. I used this last meal to get my hands on some of the things I've been lusting for for quite some time and an unexpected gem. Let's start with that one!
A Touch of Vintage
I found a wonderful vintage shop called A Touch of Vintage filled with a glorious collection of vintage garments and accessories. The girl who worked there had the cutest baby and a lot of great advice. I'm thinking about starting to use brooches more, and she recommended that I just decide which brooch i want to use on what jacket and then i just sew it on to keep it in place and not loose it. I thought that was simply brilliant! But now to the unexpected gem: a beaded cardigan in the most beautiful blush color. With pearl buttons and a lining. (Cardigans don't come with linings anymore) So lovely!!
This find has forced me to finally organize a vintage inspired trip to Copenhagen so that I can explore all the wonderful vintage shops. If you got any recommendations of great places, please leave a comment down below! (But seriously, please do, because I don't know where to start haha)
Magasin
A thing I've wanted to buy like forever is a cashmere cardigan from Magasin. If you read this post you know I love their cashmere cardigans because of its comfy fit and feel (and they are about the only cashmere garments I can afford). I got a blue, pink and grey one that I bought on sale and completely love, but I've been lusting for a black one that fits more discreetly with the rest of my clothes. So this trip was the perfect time to just do it! And i was happy to find out that it was Super Bazaar this weekend which meant 25% off on the cardigan. Yay!
Aesop
At Magasin Jonathan and I bought new hand wash from Aesop. I'm trying to keep the decor in the bathroom simple because of the green tiles. So I'm trying to stick to only white, transparent and apothecary-brown when it comes to colors. Which makes the Aesop stuff a perfect fit. We choose the Resurrection Aromatique Hand Wash because it smelled like mandarin goodness (and because it didn't have the peeling beads in it which I felt was a bit extreme for every day use)
Skjold Burne
Since Denmark is not as boring as Sweden when it comes to alcohol they got these super cozy stores filled with fun kinds of booze. We went there to stock up on our favorite Danish rum that we can't get a hold of in Sweden. Since the man who worked there was so nice we decided to try both the regular Danish Navy version and the Christmas one.
The Drama
Horror or horrors, when I went to Sephora (a standard stop on our Copenhagen trips) it was empty (not completely empty, there were some fancy stands of makeup scattered sparingly through the room) but the "filled with life", "makeup paradise" that is Sephora was gone. Apparently they are moving from Illum to give place to Illums own beauty department. Feels like a big misstake on Illums part since I only went to Illum to go to Sephora. But with no Sephora I won't feel the need to go to Illum and probably won't shop on the other floors either since I won't be there in the first place. Especially when I rather go to Magasin that's is so much nicer and got everything. Such a bummer.
The Food
As per usual we also ate at some of our favorite places. Tapas and red wine at Café Zalt, crispy duck and passion fruit mojitos at Papirøen and chevre chaud sallad, rosé wine and hot chocolate at Café Zirup. (We even ate outside twice! Even though it was cold as f**k)
The beer tasting was really nice! They told us a little bit of history about Nørrebro Bryghus but the tasting was mostly focused around how the different beers was produced and what they contained. (How they got them all to taste differently) They gave us four glasses of beer to taste and the lovely girl who held the beer tasting drank along with us! A very relaxed and fun beer tasting in the beautiful environment that is Nørrebro Bryghus. I highly recommend.
We had a lovely time on our trip. Especially when the sun started to shine on our second day there. Hope you enjoyed this little travel diary!
(P.s I love taking photographs with my polaroid when on holiday. Don't the pictures just look so cute?!)